How To Send Customized SMS, BulkSMS, Web to Phone SMS
Introduction - What is SMS?
SMS stands for Short Message Service. A "Short Message" may contain up to 7 Bit 160 characters or 140 octets of binary data. A message in the format of normal text, custom ring tones and graphics and operator logos that appear directly on screen is called flash message
Tyraweb Bulksms is a unique Short Message Service (SMS) messaging tool. It facilitates complete messaging capabilities over the GSM networks via HTTP, web interface. Also using our web interface the user can send single, group or bulk sms using any browser.
Tyraweb Bulksms Web Interface also supports the sending of message in the format of Normal text, Unicode and Flash to individual or groups of destinations directly from Web Interface. With SMS technologies, you can now send SMS from the web to mobile phones with just a click of a mouse and send a message to thousands of recipients at ONCE. This, you will agree with me, will ease the pain you will face if you will are to send a text message to a lot of people using your mobile phone.
With Web to phone SMS, you can choose any name you would like to appear on the receiver's phone as the SENDER'S ID. This is what many banks are now using to send CREDITALERTS, DEBITALERTS etc to their customers. Telecommunication companies also use bulk SMS to send alerts and PROMO messages to their subscribers.
So, how do I send Bulk SMS ?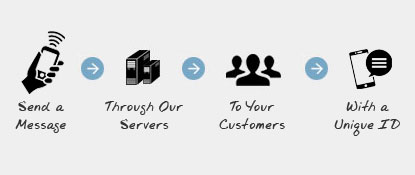 With SMS platforms like Tyraweb Bulksms , you can easily send Bulk SMS to mobile phone numbers with just a click of a mouse. Tyraweb Bulksms has a simple interface from where you can easily send your bulk SMS without having to download any software to the computer. With us, bulkSMS is delivered to mobile networks in Kenya. The Full coverage list is available at Tyraweb Bulksms.
To start sending SMS at Tyraweb Bulksms, simply follow the steps below:
Go to www.tyraweb.co.ke/bulksms and click on SIGN UP. On the SIGN UP page, fill in the form as required and click on SUBMIT. A verification email will be automatically sent to you which will contain a link you will need to click in order to verify your registration.
You will see the LOGIN form. Enter the USERNAME/EMAIL and PASSWORD that you used when signing up, and you will be logged into your account.
If you log in successfully, you should see your customized page
In the Compose SMS Form, SENDER ID field is displayed by the system as the Sender Name you have registered with us. This is the name that will be displayed on the RECEIVER'S PHONE. This MUST NOT BE MORE THAN 11 characters. This can be your name, the name of your business, name of your church, any number etc.
In the MESSAGE field, type your message making sure it is not more than 160 characters. If you type more than this inside the box, that will cost you extra sms credit.
Once you are done, CROSS CHECK everything. If there is no mistake, click on the SEND SMS NOW BUTTON.
To Know if the messages are delivered, it is better you put your personal mobile number in the RECIPIENTS field so that you can receive a copy of the text message once delivered.
Every effort has been made to ensure that the information in this manual is accurate and complete. The software described in this document is protected by copyright, and may not be copied on any medium except as specifically authorized in the license or non-disclosure agreement.